Carl Jonsson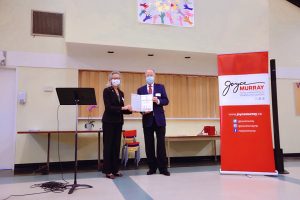 As the former President of the Brock House Society, Carl showed true leadership in ensuring members' concerns were addressed personally and with grace and respect, no matter the issue. Carl has always put the needs of members and volunteers first, especially since the beginning of the pandemic, when most communications were done via email/telephone.
To ensure members feel a sense of belonging, Carl encouraged and inspired the Society's members by introducing new services such as computer training and equipment lending to help enable their participation. His goal was to ensure all members felt valued and included.
Ricky Tsang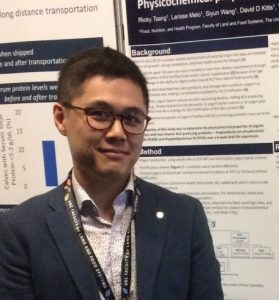 Ricky is a medical student with an already well-established track record of volunteerism.  He has spent Saturdays at St. Vincent's Langara – a long-term care facility in Vancouver for more than 12 year, involving residents in "Coffeehouse" and performing arts programs.  He has also volunteered with the Canucks Autism Network (CAN), the Children's Organ Transplant Society (COTS) and the Starlight Foundation for seriously ill children. 
Ricky recently joined the COTS Board of Directors and is now working on initiatives to provide social and emotional support for parents going through their children's transplant journeys.
His work with Starlight includes providing many families with holiday hampers, and creating an annual evening of activities with a Halloween theme, for seriously ill children and their families to enjoy.
Heather Clarke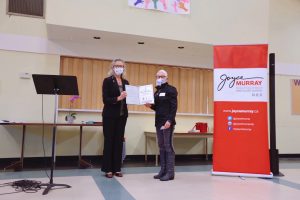 A Doctor of Nursing, Heather spends much of her professional career improving the health system in BC's Indigenous communities and much of her personal time helping others. She chaired Vancouver's Volunteerism Conference, served for many years as Chancellor of Vancouver School of Theology and  oversaw the new building initiative on UBC campus.
Prior to serving on the Vancouver Opera Board and working with its Foundation, Heather ran the Vancouver Opera Guild, organizing and supporting artists when they came to Vancouver.
Heather is also an active volunteer in Downtown east side, chairing the First United Community Ministry Society and making chili on a monthly basis.
John Hrehorka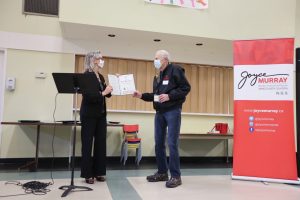 For over ten years, John has volunteered by providing maintenance service to many of the small established trails in Jericho Beach Park, cutting back intrusive and invasive vegetation, and adding fresh wood chips to the trails.
His efforts have made these trails safer and easier to use in  wet winter times, when many local residents count on them to enjoy outdoor exercise or a walk in the forests.
John's generosity in helping to maintain Jericho Beach Park has been driven by his passion for the environment and his goodwill towards the community.
Eric Liow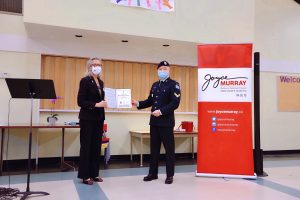 Eric is a Corporal in the Canadian Armed Force and is the first President of the Royal Canadian Legion -- UBC Branch. Under his leadership, the new UBC Legion is dedicated to supporting the mental and physical health of its student members, and promoting diversity, equity, and inclusion.
Eric has recruited a variety of community members to serve in the UBC Legion, including a substantial number of health care professionals from Vancouver General Hospital and UBC Hospital. Faculty members at UBC are also part of the UBC Legion team.
Eric's efforts are improving the lives of people who served in the Canadian military in the past and those who are currently serving. The new UBC Legion will help ensure that the significant contributions local veterans have made to our country are remembered and appreciated.
Mila Glavinic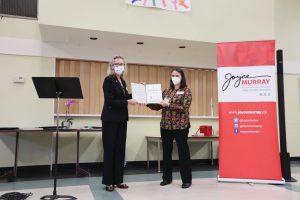 Some of this year's Hidden Heroes are being recognized for having quickly responded to help others during the early days of the Covid-19 pandemic emergency when confusion and fear were rampant. When pandemic began, Mila learned from a midwifery practice at Point Grey about the need for Personal Protective Equipment (PPE). 
Without being asked, she undertook a search for masks and hand sanitizers at a time when these products were critically important, and particularly difficult to get. She went above and beyond to find PPE to help support this local business and  community members.
Mila's efforts paid off, and she managed to successfully obtain enough masks and hand sanitizers for the midwifery practice during those difficult months. Her work helped keep Vancouver Quadra babies and families safe.
Patrick Nangle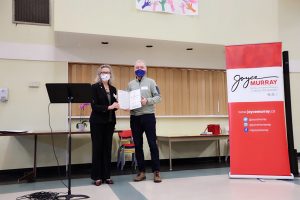 In 2019, Patrick took up the challenge of creating pollinator corridors, so badly needed as many of Vancouver's urban pollinator populations are in decline. Together with his team, he volunteered with the David Suzuki Foundation to spread awareness of the importance of pollination in the ecosystem and to build small pollinator patches at many places -- in yards, on boulevards and on corner bulges. Students at École Jules Quesnel joined in and further expanded these efforts. 
"Point Grey Pollinators" have made 70 pollinator patches that can be easily identified by their light blue "Dear Neighbour" signs. Patrick's leadership helps inform and educate the community about the value of pollination, and the importance of access to pollen  - for our bees and butterflies, now and in the future.
Nickolai Junussov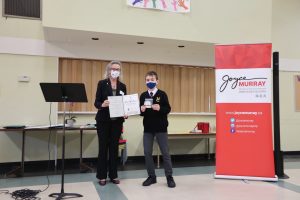 A student at General Gordon Elementary (my first school upon my family's arrival in Canada), Nickolai learned how to use 3D printers at a robotics summer camp last year, when he was just 12. When fall came, he used his 3D printing skills to help Vancouver's first responders by creating ear savers – small plastic bands that go behind heads to hold face masks in place without having to touch ears.
Nickolai's idea was welcomed and loved by the Vancouver Fire Department. He named his project "Earsavers3D", created a project website (www.earsavers3d.com), and achieved his goal of printing and giving away 500 ear savers and other COVID-related items to first responders. Today, he continues to help first responders by applying his technical skills, making promotional videos and fundraising.
Marie Brooks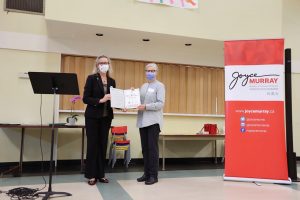 Marie goes out of her way to create a caring and welcoming neighbourhood.  Through a variety of meaningful projects, she gives neighbours the opportunity to meet and develop friendship. By helping to run the early pandemic 7 O'clock Cheer event, which honours local healthcare workers, Marie gave new immigrants a chance to meet their neighbours and helped foster a sense of belongingness.
In addition, Marie has created a sitting area with flowers and benches outside of her house so that people can sit, talk, have a rest and connect with fellow community members. By creating this communal rest space, and through a variety of other thoughtful acts, Marie has helped to build a friendly and supportive neighbourhood environment.
Li Shao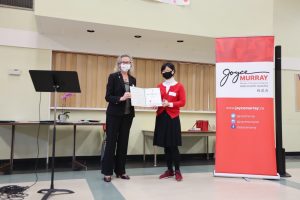 Li is a doctor and psychologist who shares her professional knowledge through a wide range of volunteer efforts.  In 2013, she began to help raise awareness about mental health by offering public lectures and talks. Her expertise in neuroscience and psychology made her talks loved by parents and youngsters alike.
Li was busier than ever after the outbreak of the COVID-19 pandemic, delivering workshops on mental health and assisting as many people as she can. Among those who she has helped are new immigrants, international students, and mothers who have been long separated from their families.
Li has also volunteered with the UBC UTown Parents-Support-Parents Club, UBC UTown Youth Psychology Club, and the Richmond Addiction Service, among many other acts of service.
Susan Lamb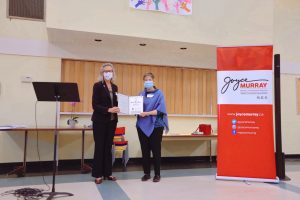 Susan is a dedicated volunteer at Brock House and served as Chair of the 2021 Brock House Summer Fair, which took place on July 10th. Susan ensured that the Fair was a resounding success. Not only did she raise money for Brock House, which helps provide activities, services and support for seniors in our local community, she has also helped make in-person meetings and gatherings a reality after months of isolation.
Susan is an active Brock House woodworker and devotes many hours to the Brock House Society. Always enthusiastic and hardworking, Susan does more than her share to enable the Society to continue building a positive community environment.
Shirley Chan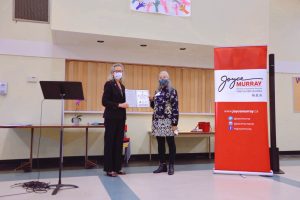 Shirley is well-known for her leadership work in protecting Chinatown and Strathcona residents and their historic neighbourhoods from being displaced by freeways several decades ago. More recently she has quietly become a passionate advocate for people with mental illness and addictions and their families.
Shirley's genuine desire to help the most vulnerable in her community has led her to work on raising awareness and support those struggling with serious mental health conditions through a variety of initiatives. She current serves on the Board of Pathways Serious Mental Illness Society and is involved in the organization's Education and Support Committee.
Raymond Poulter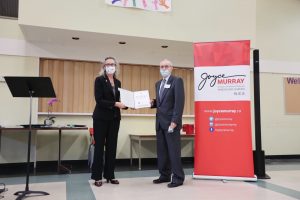 Raymond has helped his neighbors pull out and push back garbage cans for about 20 years, and he does this every week. Regardless of the weather, he is always there, ready to give a hand to neighbors in the Dunbar community.
Not only does he deal with garbage cans, but Raymond also helps cut grass and look after neighbors' gardens.
Raymond is recognized by his neighbors as an extraordinary community member and his dedication to volunteering has helped, impressed, and appreciated by many.
Sara Lehman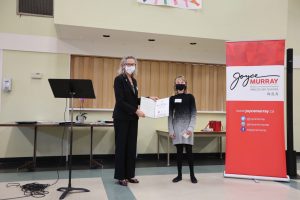 When COVID struck in 2020, Sara participated in each and every session of the 7 O-clock Cheer for many months.  Every evening, when the session began, she played her drum for about 10 minutes to show appreciation for the heroic front line healthcare workers. Her dedication was noticed and greatly admired by her neighbours.
A student at Our Lady of Perpetual Help School, Sara was just 11 when the school reopened in fall 2020. She was chosen to help two " little buddies" who were in Grade 3. Now 12, Sara is actively participating in discussions about youth involvement in government, and clearly proving herself to be an emerging community leader and inspiration to her classmates.
Peter Brock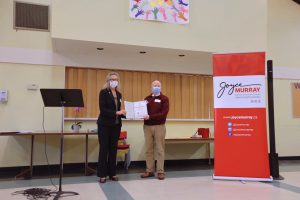 Peter is a longstanding volunteer for the University Neighbourhoods Association (UNA) and has been a regular volunteer instructor for the UNA English Conversation classes since 2014. He is passionate about teaching, and challenged himself to learn the ins and outs of Zoom so that he could continue to deliver English conversation classes in an online format.
Peter is also member of the Seniors Working Group, that advised on program development prior to the opening of the Wesbrook Community Centre in 2015. He has volunteered for many community events and programs, including Let's Cook Club, Community Connection Night, and Lunar New Year Celebration.
Zixin (Bella) Chen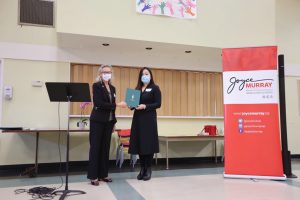 Bella is an energetic entrepreneur and volunteer.  As a vice-president of the Chinese Committee of BC Children's Hospital Foundation, she has led many initiatives to support the foundation as well as hospital staff. 
During the Covid -19 lockdown period, she raised funds to buy food for medical staff at BC Children's Hospital, and founded a non-profit organization to locate, purchase, and donate essential medical goggles to St Paul's Hospital.
Bella has worked hard to help empower local women who want to start businesses in Vancouver, encouraging them to pursue their dreams by hosting online lectures and discussions and making them available to the community.
Derek Britton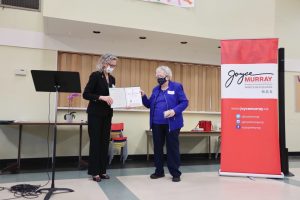 (Pictured: Derek's sister)
Recently deceased, Derek was an active leader in the Scouting movement since the mid-1960s. His many special contributions included his work in providing an excellent program for Beavers.  
For leaders who had the opportunity to work Derek, learned a lot from his enthusiasm for Scouting, and his experience earned throughout years of volunteering.
Derek's deep knowledge, problem-solving skills and his innately wise and caring approach to working with beaver-age children has been, and continues to be an inspiration to others.
James Sztyler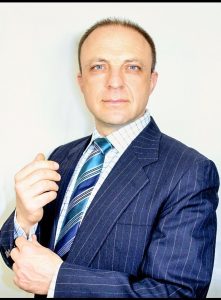 James is an urban farmer who grows fresh produce and sells it to local businesses. He also supports other gardeners with his expertise and composting tips. He and his wife Camille host gardening parties, offering venues where neighbours can meet, work in the garden, and share the bounties of the harvest season.
James is also extremely knowledgeable about automobiles. He regularly helps neighbours when they have car troubles, whether making a small repair or providing referrals to reliable repair shops,
Many have benefited from James' kind advice and generous help, which he offers without hesitation and with a huge smile.
Mari Matak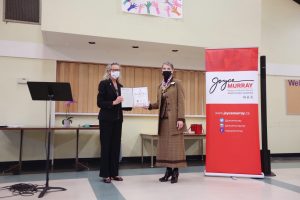 Mari is a dedicated lifelong community volunteer, recently involved with the Brock House Society and the Vancouver Botanical Gardens Association (VBGA) the VanDusen Botanical Gardens & the Bloedel Conservatory.
Throughout her time at Brock House Society, Mari has held a variety of community engagement positions, such as Membership Committee Chair, member of the Diversity, Governance & HR, and Marketing & Communications Committees.
As a volunteer lead with the VBGA VanDusen Plant Sale and the Bloedel Conservatory Docents, Mari has assisted with the organization and execution of countless popular community events, as well as many other garden sales to raise money for worthwhile causes.