August 7, 2020
August 07, 2020

A Safe-Restart for Canada

Dear friends,

I hope you enjoyed the beautiful sunny summer weather we've had so far and now, like me, appreciate the soaking Vancouver's gardens and trees just received. Last month Dirk and I got away to a very rustic island cabin and were thrilled to see humpback whales have returned to the Straits! We watched several following the shoreline, vocalizing, diving and breaching.

I have given you a break from my regular email updates so far this summer, and instead emailed you about our MP Brunch Connections event and Hidden Heroes program. Now I have a few pieces of news, for those who missed them.

Firstly, our government's Safe Restart Agreement was announced in July. This $19 Billion agreement to transfer federal funds to Provinces and Territories was achieved after much discussion and negotiation, since the P/T leaders naturally prefer to receive the dollars with no strings attached! Essentially, the Safe Restart Agreement's $19 billion will be used to help protect the health of Canadians, get people back to work safely, and prepare for a potential second pandemic wave.

Over the next six months the Restart investment priorities will include: 
Increased testing and contract tracing;

More personal protective equipment for frontline healthcare workers and businesses;

Support for the most vulnerable, including seniors in long-term care;

Making more safe child care spaces available so parents can return to work;

Providing paid sick leave for people who don't have it;

Helping municipalities deliver key services, like public transit.
Secondly, on July 21st Members of Parliament passed Bill C-20, and one week later it received Royal Assent! This important legislation authorizes the $600 payment for Canadians with disabilities, as announced in June. The cheques will go out as soon as possible to help cover their extra pandemic-related expenses, which in some cases have not been supported by other forms of help. People have until Sept 25 to apply for the DTC if they are eligible, in order to receive this. Parliamentary Hybrid sessions have continued more-or-less bi-weekly throughout the summer, with MPs close to Ottawa attending in person, and others - like me - virtually. The next one is scheduled for 9-11:30 local time next Wednesday.

Finally, I flew to Ottawa last week to be part of the Prime Minister's launch of the COVID Alert national exposure notification app developed by my ministry's Canadian Digital Service team. This app offers yet another tool in the toolkit for reducing coronavirus spread as the economy restarts. Without collecting any personal or location information, it can notify you if someone you were in contact with tested positive for COVID-19, so you can take measures to help protect yourself, your family and your community. I encourage you to download COVID Alert now, as I expect the BC government to sign up soon.

Our government will continue laying the groundwork for economic recovery. We're extending some of the support programs, and thinking about how to accelerate beneficial change, such as the need for a big, bold, Green Recovery, and an accelerated Digital Government transition to serve people better. There will be more to share on this in the coming months.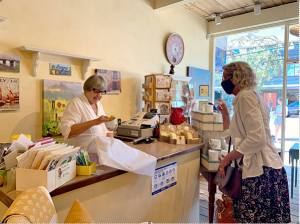 I'm encouraging everyone I know to support their local businesses. Here I'm being helped by Cheryle at Moricotta on W 10th.

Best regards,

Hon. Joyce Murray, PC, MP
Vancouver Quadra